The Language Training Center (LTC) Program provides language and culture training for Department of Defense (DoD) personnel. The University of Utah (UU) is one of nine universities running LTCs. LTCs leverage existing university and college language and culture programs to meet the needs of DoD organizations/units. The Institute of International Education (IIE) administers the Language Training Centers program on behalf of the Defense Language and National Security Education Office.
The UU Language Training Center (LTC) Program has access to a wide range of experienced, academically rigorous and culturally sensitive instructors that appropriately challenge and advance the linguistic skills of the Utah Cryptologic Team linguists. This cadre of instructors is familiar with the military linguist population, and has developed successful curricula to meet the needs of military students.
Please email Catherine Scott (c.scott@utah.edu) for information on the University of Utah's Language Training Center program and/or information on course enrollment. Students must be DoD employees to participate in these classes.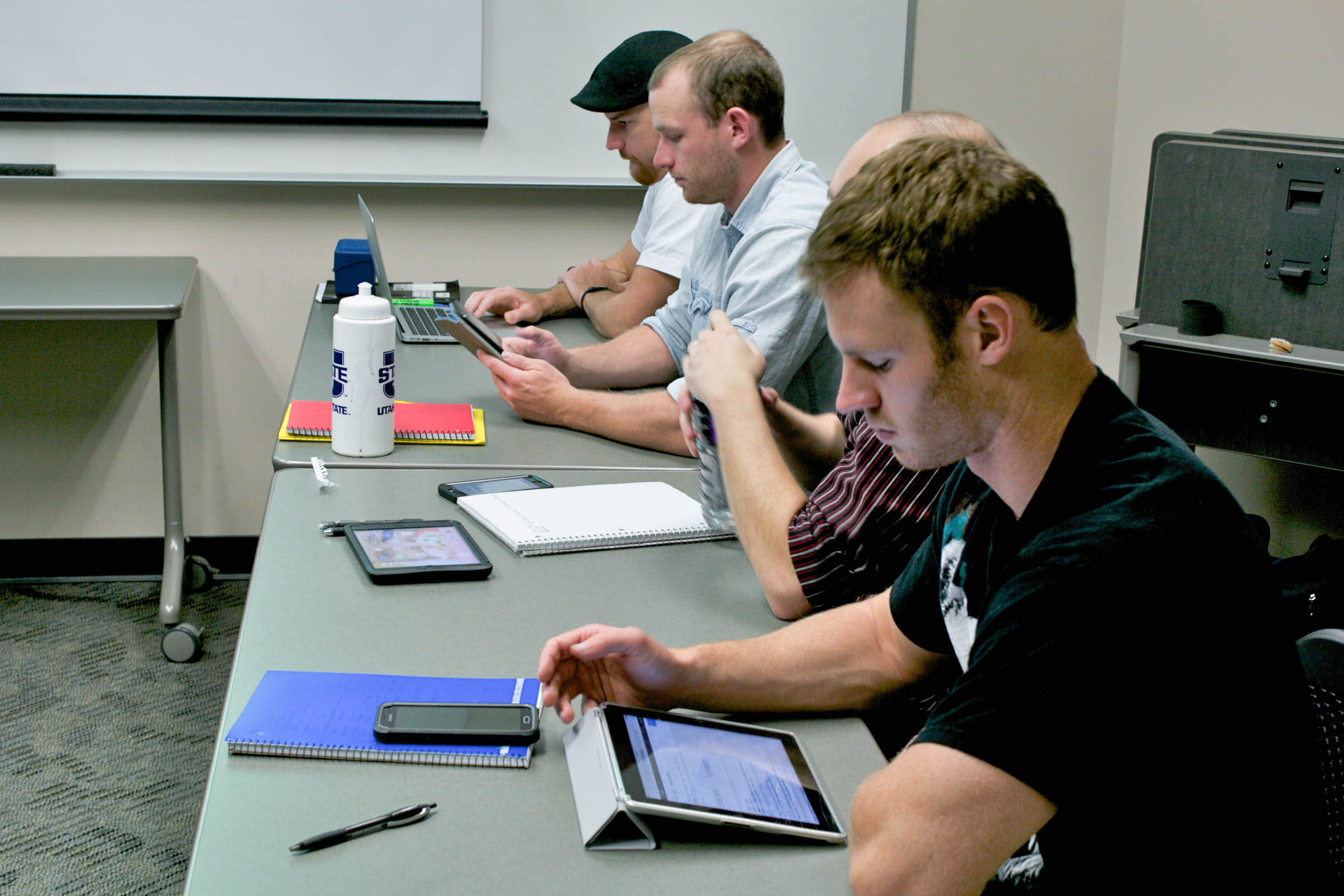 TRAINING DELIVERY METHOD
Blended Learning Style
The program goals are to maintain and/or advance the linguists' level of language proficiency. Proficiency is measured via a series of pre- and post-assessment tests – the Oral Proficiency Interview by Computer (OPIc), the Reading Proficiency Test and the Listening Proficiency Test. Instruction is delivered in a combination of face-to-face instruction and online work to total the 120 hours needed to meet the requirements for a significant language-training event.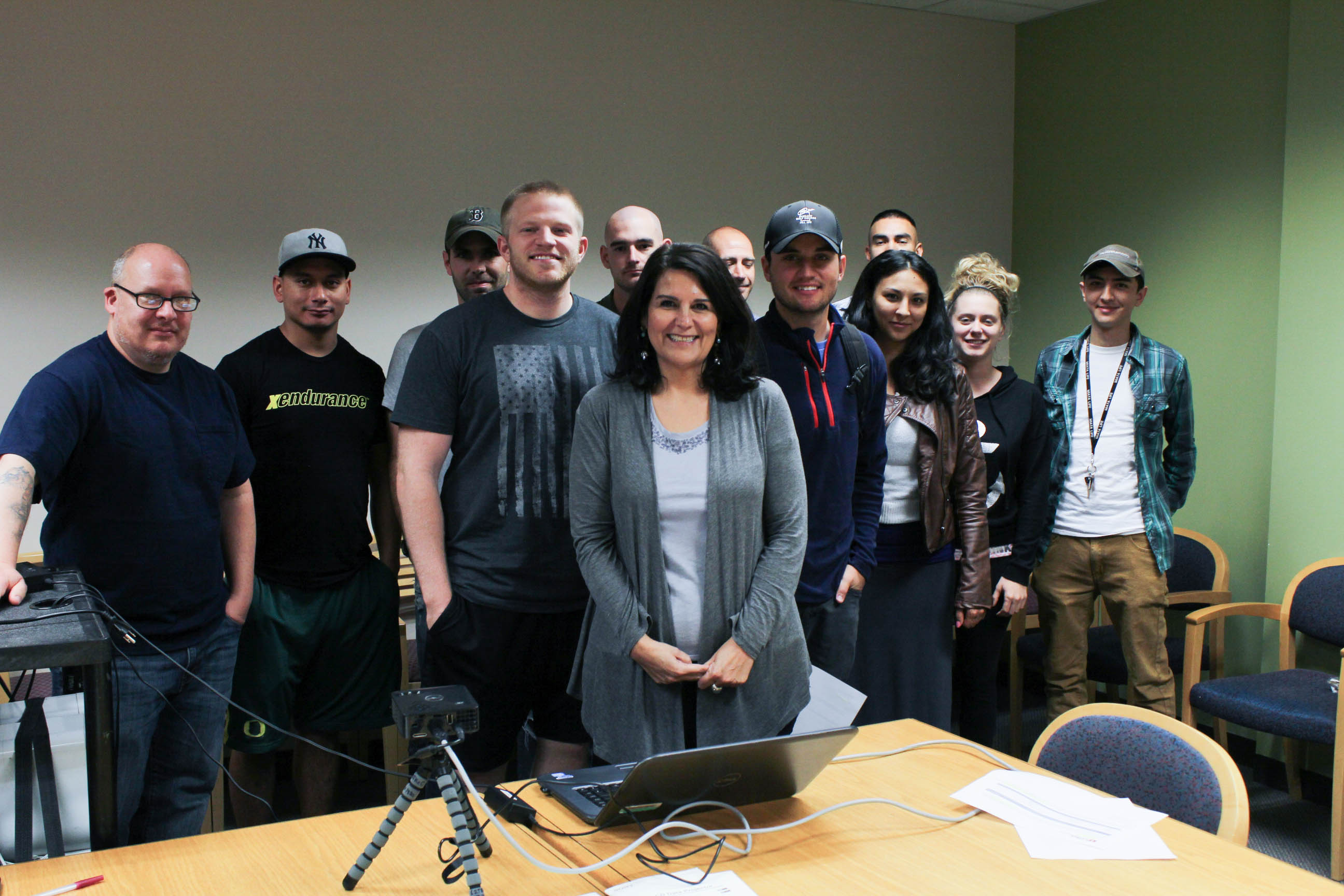 PEDAGOGICAL APPROACH
A combination of face-to-face and online components provide the minimum 120 hours of annual language instruction required. The curriculum follows a proficiency-based model using a wide range of authentic materials including social, cultural, political, economic, geographic, scientific and military themes. Traditional print and online materials are also incorporated into classes.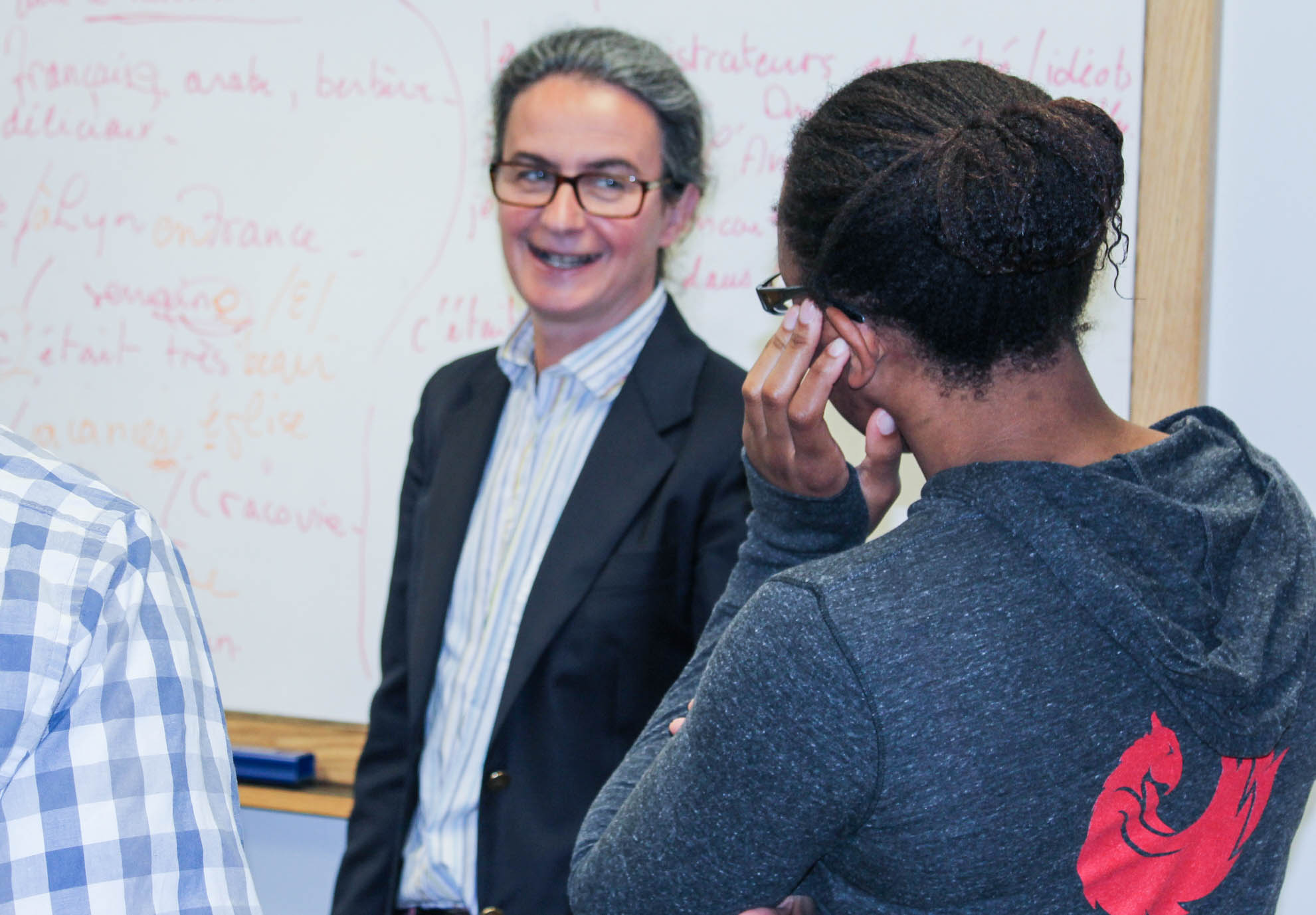 LANGUAGES AVAILABLE
Arabic (MSA)
Arabic (Levantine Dialect)
Chinese (Mandarin)
Farsi
French
Japanese
Korean
Portuguese
Russian
Spanish
UU provides for language maintenance classes of 120 hours for the nationally recognized, linguistically advanced Utah Cryptologic Team (UCT).

"I appreciate the time, support, and effort of all parties that have been involved in giving me the opportunity to study French here at the University of Utah. The course has been amazing and I would unequivocally recommend the program to any linguists in our battalion who are interested in becoming more proficient in their language. The language department here has been truly amazing and the learning environment has helped me to gain confidence in my speaking and listening skills."
"I like that the instructors push us to use the language more than any other course I've ever been to. I also like that they allow us to try to figure out our own mistakes before they correct us."

"The instructors are extremely competent as well as patient. I've studied a number of languages at several institutions and the two professors we have are absolutely fantastic."
"The basis that there was no-hold-barred with her is what I believe I enjoyed the most because that honestly makes the difference between a University Student studying a language just for a major or possibly to visit a country...and a Military member who has to use street language, colloquialisms, metaphors, etc., in real-world situations."
"I would like to say that I was extremely impressed with the fact that there was a huge emphasis on speaking this course, with a lot of critical thinking, opinion forming, debating, etc. Every other Language Refresher has had way too much translation, maybe listening exercises. Most soldiers have higher writing scores on their DLPT's, and speaking activities help accomplish listening with interpretation practice at the same time."
"This is the best Chinese class I have attended. I currently have a 3+/3 and find this class very helpful for Chinese linguist level 2 and above. The instructor is amazing and very good at picking up the individual needs of the students."
"Professor Alavi has that rare ability to tailor instruction and conversation to each student in the class. This is significant because this class has students whose language levels range from advanced beginner to native."
"The relevance of the daily quizzes to the previous day's lesson really helped to reinforce what was learned the previous day."
"I liked that the course utilized authentic materials. The instructors were very helpful with breaking down the materials."
"The instructor was knowledgeable and amiable. He did a very good job of using real-world materials to help students learn and retain language and cultural information."
"I appreciate the flexibility of the teaching staff and their responses to answers on projects from the homework activities. It increases our knowledge of grammar and fluency."
Language Training Instructors
Jason Andrus
Jason Andrus was a visiting assistant professor of Middle East Studies and Arabic at Brigham Young University in 2016 and currently adjunct professor there. He is a scholar of law and religion with a Juris Doctor degree from NYU School of Law and a MA in Comparative Religion from the University of Washington. During the course of his graduate work his research in Arabic law and texts has given him the chance to continually teach courses in his first love in Middle East studies, Arabic language. He has taught first through fourth year Arabic courses at the University of Washington, NYU, BYU, in Amman, Jordan, and in Cairo, Egypt. His current research and writing focus is the intersection of law and religion in order to address incongruities between the legal/political system and conceptions of justice, in particular rationals for criminal punishment and majoritarianism in heterogeneous societies.
Lily Alavi
Lily Alavi is an Associate Instructor of Persian language at the Department of World Languages and Cultures at the University of Utah. She has taught Persian Intermediate I &II and Persian Advanced I & II. She is also responsible for the Community Engaged Learning course of the department, which has a CEL designation (Community Engagement Learning) from the Bennion Center. This course entails lectures and readings, cross-cultural communications through simulation exercises, and community service in the Salt Lake City region. Lily was born and raised in Tehran, Iran and lived there until 1993. She has a bachelor degree in French-Persian translation from Iran and a Master of Art in French Literature from the University of Maine, where she lived and worked for several years prior to moving to Utah in 2009.
Email: Lily Alavi
Takashi Ebira
Takashi Ebira is currently Associate Professor of Japanese at Salt Lake Community College. He received both a B.A. and an M.A. in linguistics from the University of Utah. He also received a TESOL certificate when he completed his M.A. program in 2001. Takashi was Assistant Professor of Japanese at the Defense Language Institute (DLI) in Monterey, California. While he was at DLI, he also served as an ILR OPI tester and conducted Japanese speaking tests for U.S. and Canadian military personnel. Takashi's
current academic interest is related to contrastive linguistics between English and Japanese, including pedagogical grammar and present-day usage of both languages.
Email: Takashi Ebira
Hyesun Kim
Hyesun Kim is an Associate Instructor of Korean language at the Department of World Languages and Cultures at the University of Utah. She received her bachelor's in Arabic at the Hankuk University of Foreign Studies in Seoul, Korea. During her undergraduate, she received teacher licensure in Japanese and Arabic. She received an M.Ed. in teaching Korean as a foreign language at the same institution. She completed her M.Ed. and TESOL certificate at the University of Utah. She is a Ph.D. candidate in Education, Culture and Society. Hyesun's current academic interests include heritage language education among immigrant families in the U.S. and family language planning and policy related to their language ideologies and language identity.
eMail: Hyesun Kim
Kona Eldredge
Koeun Park (Kona Eldredge) is a Korean language instructor in the Department of World Languages and Cultures and L2TReC, a doctoral student in the Department of Education, Culture and Society, and a graduate assistant at the Urban Institute for Teacher Education within the University of Utah. She earned her M.Ed and bachelor's degrees in linguistics (with TESOL certificate) and international studies at the same institution. Since 2013, she has been teaching Korean courses both to university students and military linguists at the U. Previously, she directed a Korean community heritage language school where she also taught. She coordinated an ESOL program and taught English to refugee populations at Salt Lake County. Her specific areas of interest include bilingual education, heritage language education, multicultural education, and TESOL.
Email: koeun.park@utah.edu Kona Eldredge

Elena Grajinskaya
Elena Grajinskaya graduated from the Lomonosov Moscow State University with a degree in Journalism, Literary Editing, and professional certification in Teaching Russian as a Foreign Language. Her research interests include international collaborations in the history of Russian journalism with a paper published about the Polish publicist and writer Jozef Ingacy Kraszewski in the Moscow University Annals (Vestnik MGU, Journalism series). Elena is a supporter of contextualized language instruction. She also obtained her M.B.A. degree from the University of Utah and co-founded an educational non-profit organization.
Olga Savenkova
Olga Savenkova was born and raised in Russia. She holds two Bachelor degrees from Russian universities, BS in Economics (Moscow State University) and BA in Cultural Studies (Nizhny Novgorod State Linguistic University), and a Master degree in Comparative Literary and Cultural Studies from the University of Utah. She is currently pursuing her doctorate degree in the same program. Her research interests include Russian, American, Classical Greek, and Modernist literature and culture. In teaching she focuses on communication and cultural topics. Her personal interests include family, classical music, and creative writing.
Email: Olga.savenkova@utah.edu
Monica B. Orcutt
Mónica B. Orcutt holds a M.A. in Spanish Language, Culture and Latin American Literature from Brigham Young University-Provo and has also completed post graduate course work at the University of Texas at Austin.
She received an Endorsement in Teaching English as a Second Language and has completed mediation courses. She also has training in Legal and Medical Translation and Interpretation.
She has been dedicated to presenting her research at scholarly conferences and publishing of her work. Monica's literary research includes Latin American Jewish literature, women writers, culture, Latin American theatre and creative writing. She is the author of the book, Claves en el teatro de Nora Glickman.
She has extensive experience developing curriculum and facilitating intensive courses for the military.
Email: Monica Orcutt