Utah Bridge Students Meet Mexican Screenwriter Ligiah Villalobos
Unique opportunities sometimes come in inspired ways and unexpected connections.
During the 2018-2019 school year, Spanish Bridge students are taking the university course Literature and Film: Contemporary Issues. This upper-division Spanish course exposes high school students to literary works, including film, and culminates with students writing, directing, and filming their own film short. This course is taught at Layton and Farmington High Schools by Spanish teachers Ingrid Campos and Fermín Soriano, in cooperation with Dr. Chantal Esquivias from Weber State University.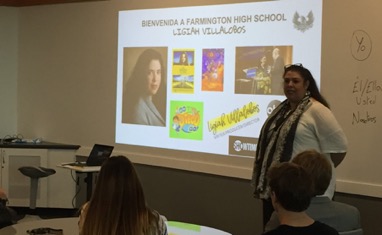 When Esquivias contacted Villalobos, she agreed to visit Layton High School and Farmington High School. "As it turns out, Ligiah attended middle and high school in Utah, so she seemed eager to connect with Utah students," remarks Esquivias.
Esquivias, Campos and Soriano started preparing students by covering topics from the film such as crossing borders, sacrifice for family, and the dangers of risk taking. Students began researching topics such as Villalobos' professional endeavors, the soundtrack of the film, a television interview with an actress from the film, a newspaper article reviewing the premier of the film in Panamá and procedures for conducting a formal interview in preparation for Villalobos' visit. Finally, on the day of the visit, students were ready with questions about Villalobos' inspiration for the film, what it is like to work as a screen writer, the process for composing a script, and how to work for a television network.
While perusing through the Utah Film Center website, Dr. Esquivias came across the showing of the film Bajo la misma luna (Under the Same Moon) on September 12, 2018. "I saw that there was a post-film Q&A with the screenwriter Ligiah Villalobos and I thought, what a great opportunity for Bridge students to interview a screenwriter as part of their own film making process!"
Ligiah Villalobos is a writer, producer, cultural consultant and educator best known for the independent film Under the Same Moon. She has worked for networks such as ABC, NBC, ABC/Family (now Freeform), F/X, Showtime, BET, HBO and Sesame Street. She was also a cultural consultant for the movie Coco.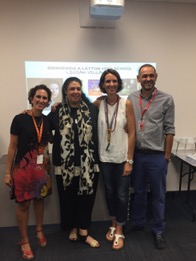 Villalobos shared her perspective with students on many different topics such as the importance of cultural learning, the advantages of speaking a second language and how both these aspects affect identity. Students were absorbed while hearing about Villalobos' body of work, and Villalobos was excited by the language proficiency of students at Layton and Farmington High School.
"I am very impressed that you know the word obviamente" remarked Villalobos after being questioned by a student at Farmington High School. She went on to explain why speaking a second language is important and that travel is one of the best ways to expand horizons.
"Ligiah Villalobos established a great connection with students," says Esquivias. "Having her visit the schools was a fantastic opportunity for all."